David Drake's Poems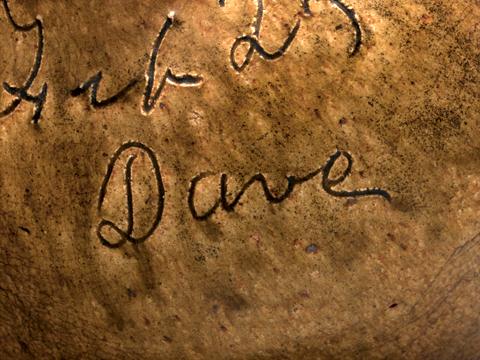 It was almost impossible for American slaves to write about their lives while they were in bondage. Fear of punishment, forced illiteracy, lack of writing materials, exhaustion at the end of the day all militated against it. Dave, however, found a way to leave a kind of journal on his jars. In the damp clay that he understood so well, he wrote about the elements of his daily life—the people he loved, the biblical teachings he believed in, his moments of recreation, and, most often, the qualities of the very jars he was writing on. He usually presented his thoughts in short, rhyming couplets that were informal and were addressed directly to the reader.

In spite of Dave's down-to-earth style, his poems can be puzzling. Sometimes the images he evokes within a short two lines seem incongruent with one another; sometimes his thoughts seem d or strangely open-ended. In addition, he seems to have enjoyed using words that could be understood in more than one sense. For example, when Dave writes on August 24, 1857, of "a pretty little Girl, on a virge," "virge"can indicate the virginity of the girl and the verge of maturity on which she finds herself. One of Dave's most skillful double meanings occurs in his July 31, 1840, description of the Miles plantation ("wher the oven bakes & the pot biles"), in which his vivid imagery applies equally well to the kitchen and the kiln. The fact that we are rarely able to pin down the exact meaning of what Dave has written gives his poems an elusive quality that is one of their prime attractions.

Here are a few of the approximately thirty poems that Dave is known to have inscribed on his pots:


horses mules and hogs —
all our cows is in the bogs —
there they shall ever stay
till the buzzards take them away =

—March 29, 1836


a better thing, I never saw
when I shot off, the lions Jaw

—November 9, 1836


Ladys & gentlemens Shoes =
sell all you can : & nothing you'll loose . x

—January 29 1840


Dave belongs to Mr Miles /
wher the oven bakes & the pot biles ///

—July 31, 1840


I made this Jar = for cash —
though its called = lucre Trash //

—August 22, 1857


a pretty little Girl, on a virge
Volcaic mountain, how they burge

—August 24, 1857


Great & Noble Jar
hold Sheep goat or bear

—May 13, 1859


I saw a leppard, & a lions face, ``
then I felt the need of — Grace .

—November 3, 1858






Information on this page is condensed from Carolina Clay: The Life and Legend of the Slave Potter, Dave by Leonard Todd (W.W. Norton). The 1858 jug shown at the top of this page is in a private collection. The photograph by Gavin Ashworth is courtesy of Ceramics in America.