A Personal Note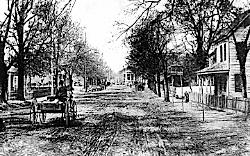 The slave potter, Dave, was owned throughout most of his life by members of my family. They were the Landrums and the Mileses of Edgefield, South Carolina, and their close relatives, the Drakes. When I discovered this, I set out to find out all I could about this man, who had managed to become a creative artist in spite of being held as a slave. And I wanted to know about the men who had kept him in bondage. Though Dave's owners were surprisingly close to me in my family tree—my mother's father's mother's father was Lewis Miles, his principal owner—I determined to look clearly at whatever I found, no matter how painful it might prove to be.

Even so, I was not prepared for the story that I uncovered: The world in which Dave turned his now famous vessels was a startling mix of violence, punishment, and political strife on one hand and quiet, bucolic pleasures on the other. The contrast was constantly evident. On one awful occasion, a female slave who worked closely with Dave in the pottery hanged herself after being whipped severely by their owner, Franklin Landrum. Yet on other occasions, Dave was known to have drowsed peacefully in the yard of Lewis Miles's pottery or joked with him about the jars he had made.

In deciding to follow Dave's story wherever it led me, I discovered a long and complex intertwining in which members of my family purchased blacks, whipped them, slept with them, sold them away from one another, tried to prevent them from voting, and perhaps sometimes loved them deeply. Certain of these blacks supported my forebears with their labor, bore their children, murdered them in anger, killed themselves in protest against them, and perhaps sometimes loved them deeply.

Some among my family members appear to have encouraged Dave to read and to inscribe his feelings on his pots; he used his talents to make them successful manufacturers for more than fifty years. There was an exchange throughout the course of this black-white relationship, not an equal or fair one but an exchange just the same.

By searching through my family papers, through documents preserved in archives across South Carolina, and through Dave's own inscriptions, I have been able to create a picture of Dave's vibrant life in Carolina Clay. Still, I'm aware that a great distance continues to separate me from him. It is an inevitable distance, encountered by every writer who tries to recreate the life of someone who lived in the past. Simon Schama says this about it: "We are doomed to be forever hailing someone who has just gone around the corner and out of earshot."

My closest link to Dave may be through my grandfather, Francis Miles Wever. He was born in 1866, about ten years before Dave died. Just as his life overlapped Dave's, mine overlapped his. Because he was often ill when I was little, I never had a chance to know him well, but I remember with clarity one particular moment with him.

It was Christmas Day, 1944, at my aunt's house, where he lived then. I was four years old. He had come downstairs before the holiday supper to sit in his customary leather chair in the living room. Though he was old and walked slowly, he was slim and straight and dressed elegantly in a gray suit. I sat down beside him on a stool. Feeling shy, I studied him from the corner of my eye. He had a carefully trimmed beard, almost white. He might have been smoking; at least I remember yellow-brown stains on his index and middle fingers, where a cigarette would have been. He wore a gold ring set with two small stones, a ruby and an emerald. I think they formed the eyes of snakes that circled the ring from opposite directions. The nail on the thumb of one of his hands was completely split, broken in a firecracker explosion when he was a boy, and one half of it slightly overlay the other. His exotic ring and broken thumbnail signaled to me that he had lived a vastly eventful life.

I wonder today if he sat beside Dave in the same way that I sat beside him. His mother, America, was the daughter of Lewis Miles, Dave's last owner, and would have known Dave well. I think she might have wanted her young son to know him, too. I can see her setting him down on a bench next to him. I can imagine my grandfather asking him, in the straightforward way of a child, why he only had one leg. I can see Dave laughing and molding a plaything out of clay to amuse him. Perhaps my grandfather held that moment in his memory all his life, just as I did my moment with him.




Information on this page is condensed from Carolina Clay: The Life and Legend of the Slave Potter, Dave by Leonard Todd (W.W. Norton, Fall 2008). The 1912 photograph of Main Street, Edgefield, is courtesy of the Edgefield County Historical Society.