A Personal Note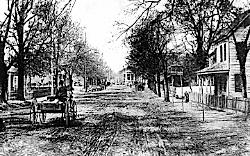 The great potter, David Drake, sometimes known simply as "Dave," was enslaved throughout most of his life by members of my family. They were the Landrums and the Mileses of Edgefield, South Carolina, and their close relatives, the Drakes. When I discovered this, I set out to find out all I could about this man, who had managed to become a creative artist in spite of his bondage. And I wanted to know about the men who had held him. Though they were surprisingly close to me in my family tree—my mother's father's mother's father was Lewis Miles, his principal owner—I determined to look clearly at whatever I found, no matter how painful it might prove to be.

Even so, I was not prepared for the story that I uncovered. The world in which David Drake turned his now famous vessels was a startling mix of violence, punishment, political strife on one hand and quiet, bucolic pleasures on the other. The contrast was constantly evident. On one awful occasion, a female slave who worked with Dave in the pottery hanged herself after being whipped severely by their owner, Franklin Landrum. Yet, at another time, when Lewis Miles  questioned the strength of a jar handle Dave had just fashioned, the potter openly recorded the criticism in an inscription on that very jar—whose handle has survived unbroken all these years.

In deciding to follow the story of these men wherever it led me, I discovered a long and complex intertwining in which members of my family purchased men and women, whipped them, slept with them, sold them away from one another, tried to prevent them from voting, and perhaps sometimes held them in high regard. Certain of these men and women supported my forebears with their labor, bore their children, murdered them in anger, killed themselves in protest against them, and perhaps sometimes held them in high regard.

By searching through my family papers, through documents preserved in archives across South Carolina, and through Drake's own inscriptions, I have been able to form a picture of his life in Carolina Clay. Still, I'm aware that a great distance continues to separate me from him. It is an inevitable distance, encountered by every writer who tries to recreate the life of someone who lived in the past. Simon Schama says this about it: "We are doomed to be forever hailing someone who has just gone around the corner and out of earshot."

My closest link to David Drake may be through my grandfather, Francis Miles Wever. He was born in 1866, about ten years before Dave died. Just as his life overlapped the potter's, mine overlapped his. Because he was often ill when I was little, I never had a chance to know him well, but I remember with clarity one particular moment with him. I recall sitting by his side, examining his interesting hands. They were lined and worn, as if he had attempted much and accomplished much.

When my grandfather was a child, he could have done the same, simple thing with Dave. Think of that!






Information on this page is condensed from Carolina Clay: The Life and Legend of the Slave Potter, Dave by Leonard Todd (W.W. Norton, Fall 2008). The 1912 photograph of Main Street, Edgefield, is courtesy of the Edgefield County Historical Society.